RC Chop Shop Presents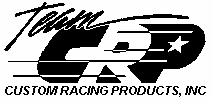 Radio Race Car's
"Roughrider Revisited" article
from the May/June 1985 Issue
Featuring Team CRP (Custom Racing Products, Inc.) Parts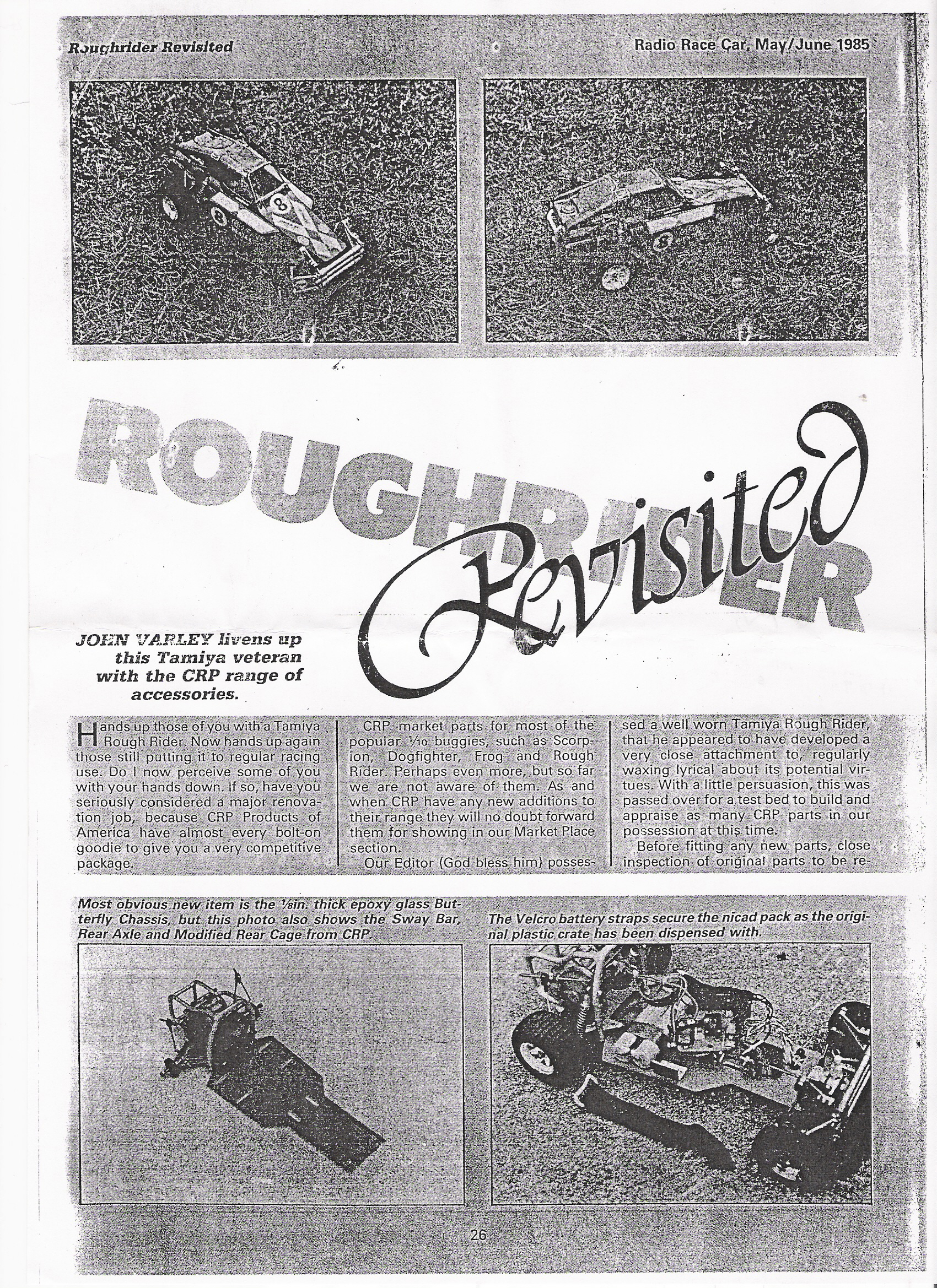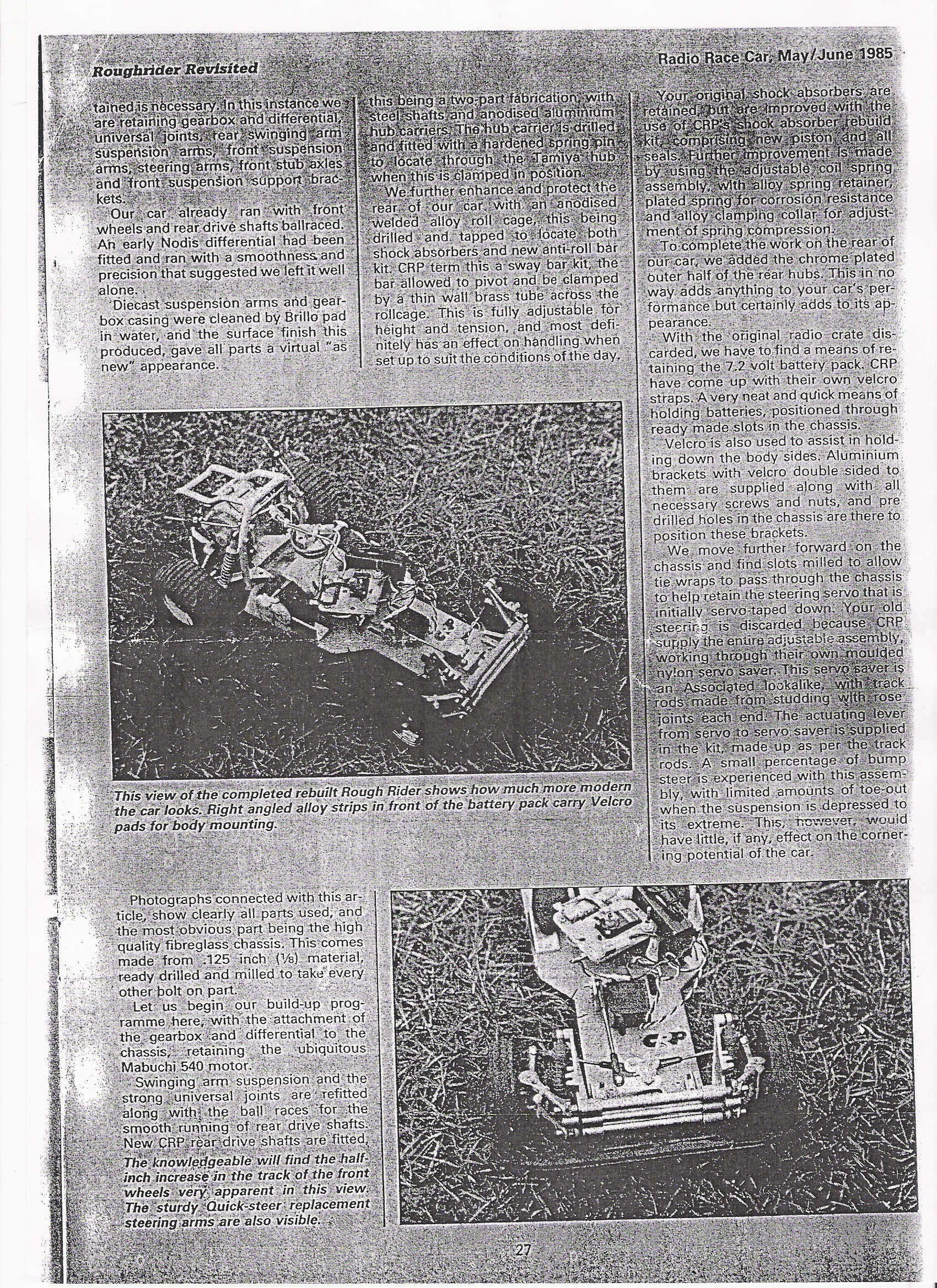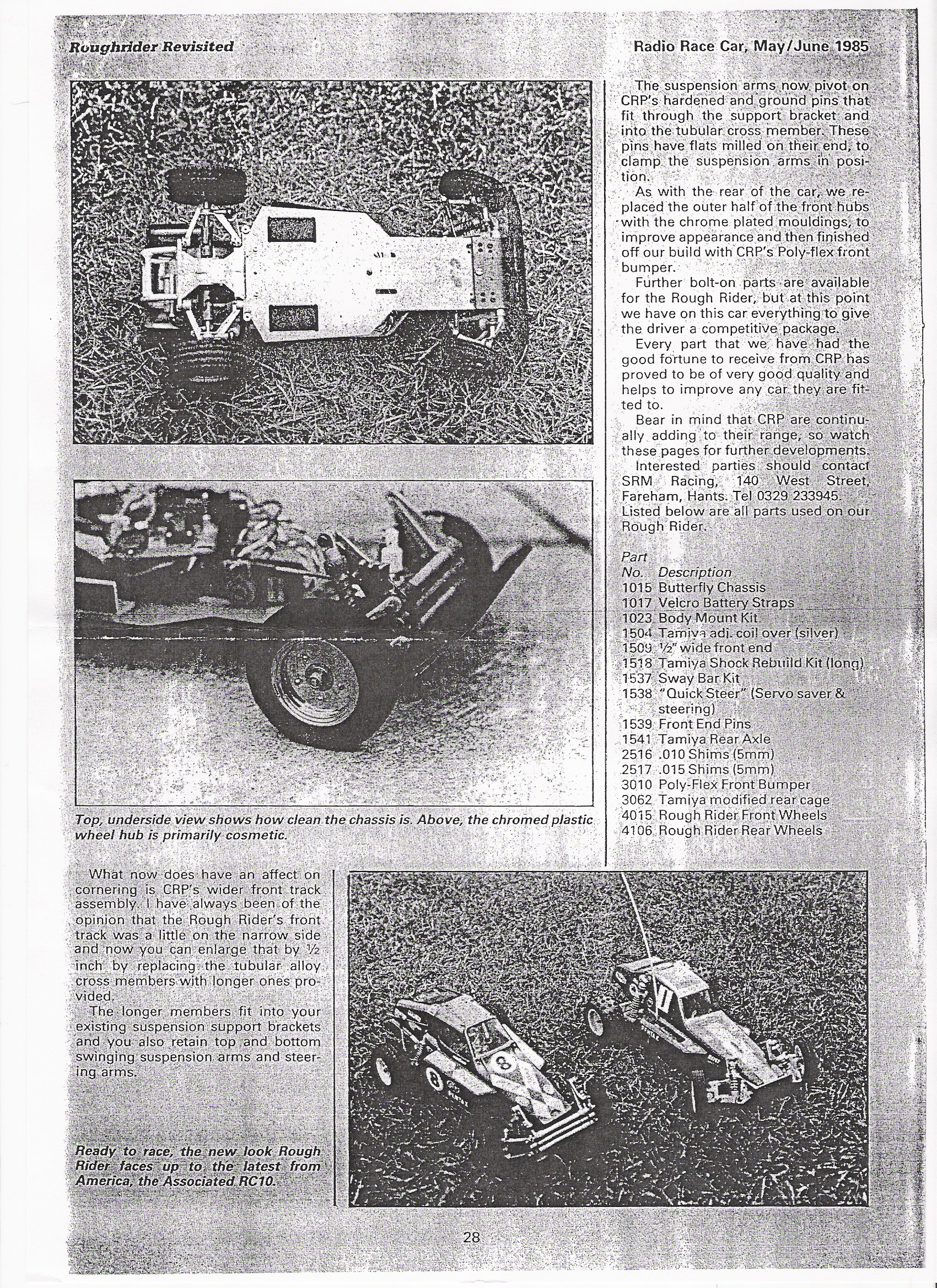 Brought to you by

RC Chop Shop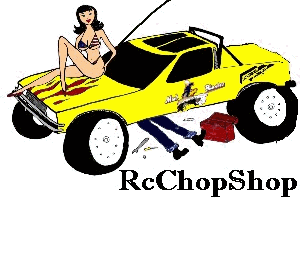 ®
"The cool place for all your 'HOT' parts!" ®
© 2003-2005 RcChopShop.com, Inc.
Click here to see: the Team CRP parts we are currently offering for sale or
Click here to see:our current ebay auctions
Radio Race Car's "Rough Rider Revisited" article from the May/June 1985 Issue
Thanks to a friendly eBayer over in the UK, we received this photocopy from the May/June 1985 issue of Radio Race Car, a UK publication. The quality of the photocopy isn't the greatest but it is legible.
I will also type out the article for those who may not be able to make it out. The article was entitled, "Roughrider Revisited" by John Varley.

There is a list of CRP products used on the Tamiya Rough Rider:
1015 Butterfly Chassis
1017 Velcro Battery Straps
1023 Body Mount Kit
1504 Tamiya Adj. Coil Over (silver)
1509 1/2" wide Front End
1518 Tamiya Shock rebuild kit (long)
1537 Sway Bar Kit
1538 "Quick Steer" (Servo Saver & Steering)
1539 Front End Pins
1541 Tamiya Rear Axle
2516 .010 Shims (5mm)
2517 .015 Shims (5mm)
3010 Poly-Flex Front Bumper
3062 Tamiya modified Rear Cage
4015 Rough Rider Front Wheels
4016 Rough Rider Rear Wheels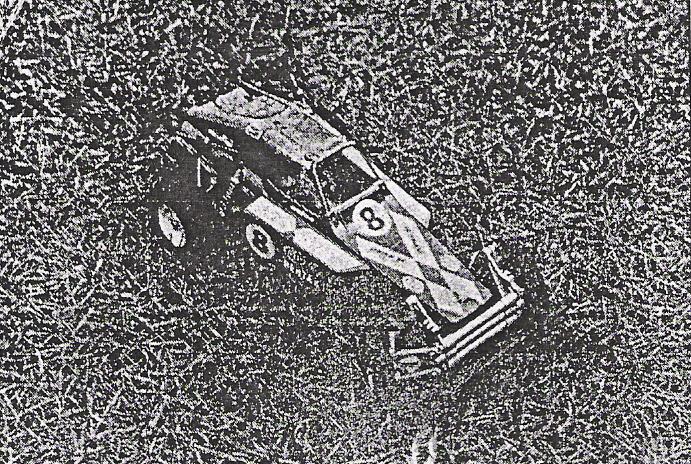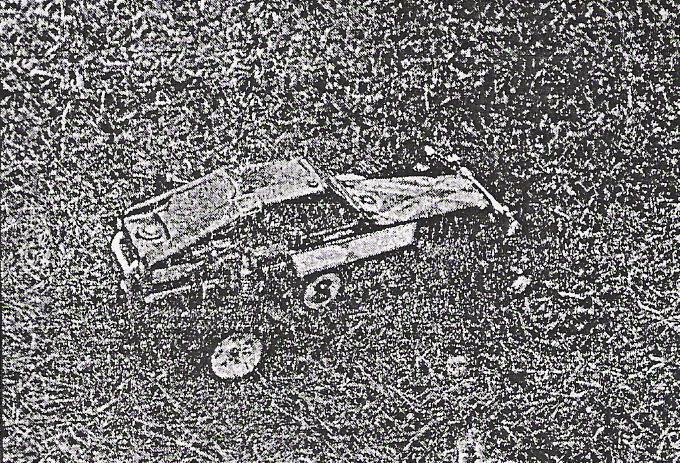 ROUGHRIDER REVISITED
JOHN VARLEY livens up this Tamiya veteran with the CRP range of accessories.
Hands up for those of you with a Tamiya Rough Rider. Now hands up again those still putting it to regular racing use. Do I now perceive some of you with your hands down. If so, have you seriously considered a major renovation job, because CRP Products of America have almost every bolt-on goodie to give you a very competitive package.
CRP market parts for most of the popular 1/10 buggies, such as Scorpion, Dogfighter, Frog and Rough Rider. Perhaps even more, but so far we are not aware of them. As and when CRP have any new additions to their range they will no doubt forward them for showing in our Market Place section.
Our Editor (God bless him) possessed a well worn Tamiya Rough Rider, that he appeared to have developed a very close attraction to, regularly waxing lyrical about its potential virtues. With a little persuasion, this was passed over for a test bed to build and appraise as many CRP parts in our possesion at this time.
Before fitting any new parts, close inspection of original parts to be re-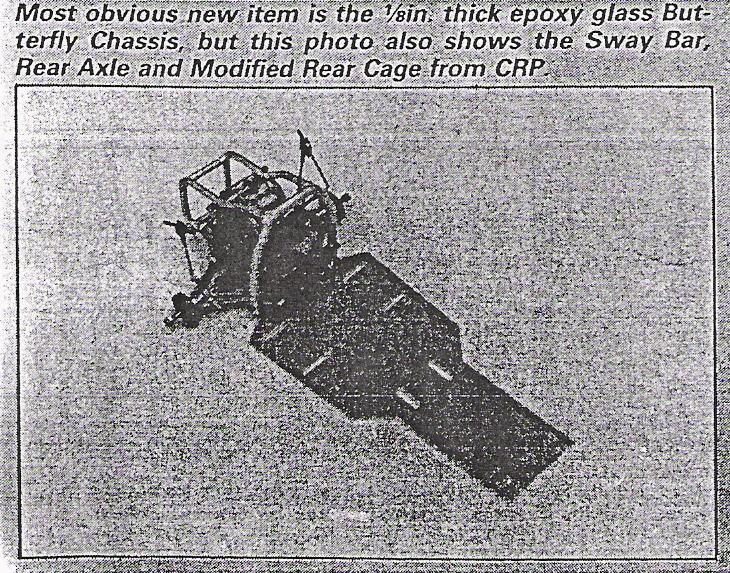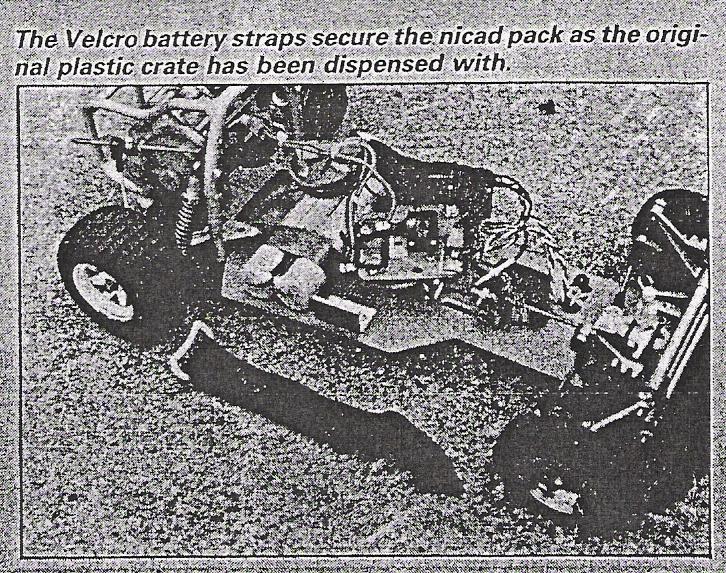 tained is necessary. In this instance we are retaining gearbox and differential, universal joints, rear swinging arm suspension arems, front suspension arms, steering arms, front stub axles and front suspension support brackets.
Our car already ran with front wheels and rear drive shafts ballraced. An early Nodis differential had been fitted and ran with a smoothness and precision that suggested we left it well alone.
Diecast suspension arms and gearbox casing were cleaned by Brillo pad in water, and the surface finish this produced, gave all parts a virual "as new" appearance.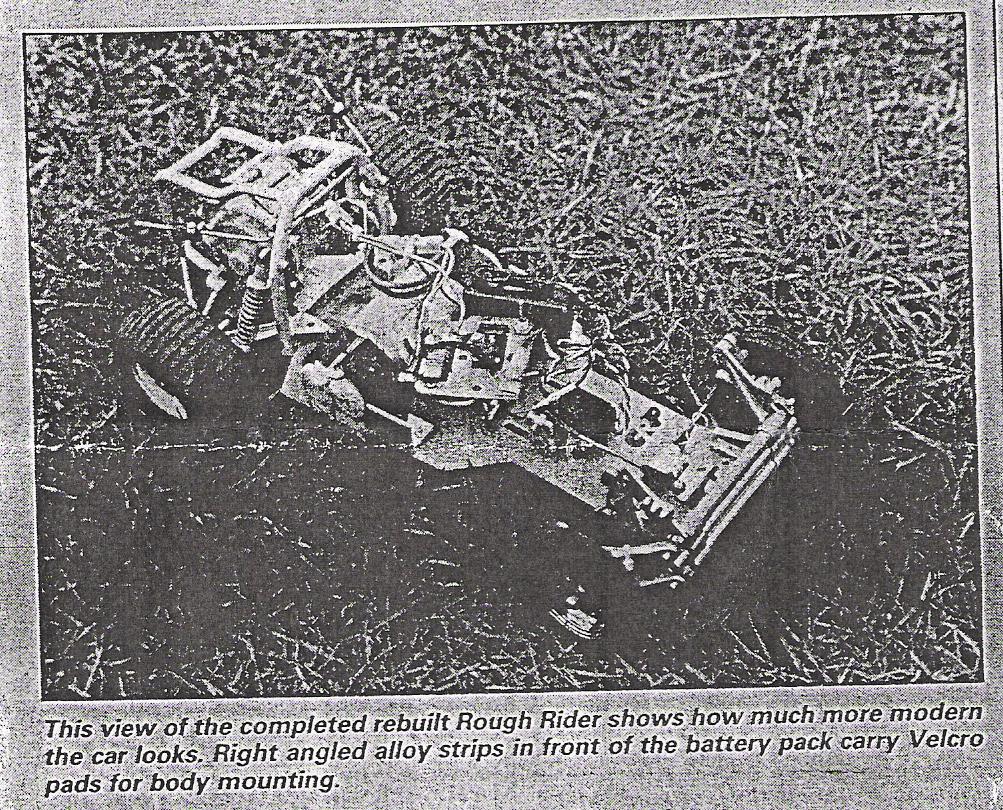 Photographs connected with this article, show cearly all parts used, and the most obvious part being the quality fibreglass chassis. This comes made from .125 inch (1/8) material, ready drilled and milled to take every other bold on part.
Let us begin our build-up programme here, with the attachment of the gearbox and differential to the chassis, retaining the ubiquitous Mabuchi 540 motor.
Swinging arm suspension and the strong universial joints are refitted along with the ball races for the smooth running of rear drive shafts. New CRP rear drive shafts are fitted,
The knowledgeable will find the half-inch increase in the track of the front wheels very apparent in this view. The sturdy Quick-steer replacement steering arms are also visable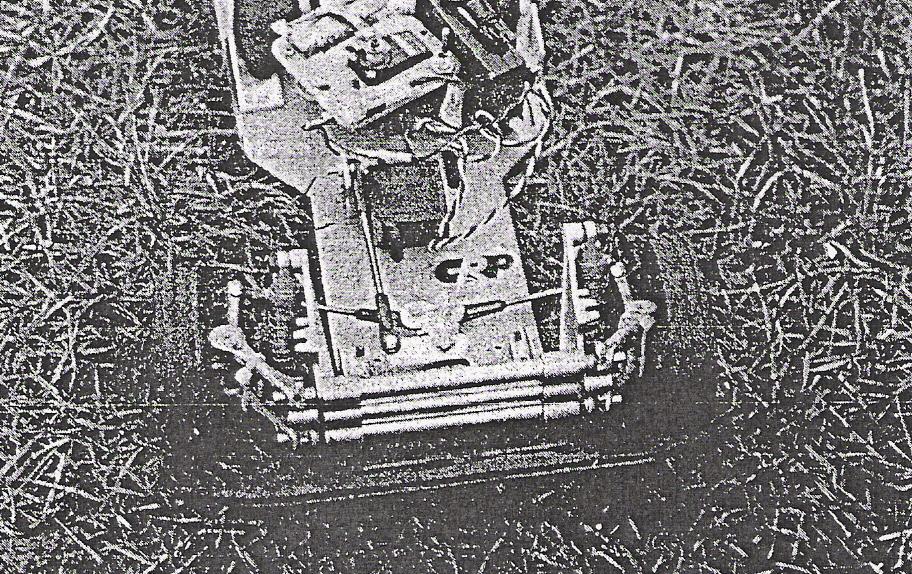 this being a two-part fabrication, with steel shafts and anodised aluminium hub carriers, The hub carrier is drilled and fitted with a hardened spring pin to locate through the Tamiyahub when this is clamped in position.
We further enhance and protect the rear of our car with an anodised welded alloy roll cage, this being drilled and tapped to locate both shock absorbers and new anti-rool bar kit. CRP term this a sway bar kit, the bar allowed to pivot and be clamped by a thin wall brass tube across the rollcage. This is fully adjustable for height and tension, and most definitely has an effect on handling when set up to suit the conditions of the day.
Your original shock absorbers are retained, but are improved with the use of CRP's shock absorber rebuild kit, comprising new piston and all seals. Further improvement is made by adjustable coil spring assembly, with alloy clamping collar for adjustment of spring compression.
To complete the work on the rear of our car, we added the chrome plated outer half of the rear hubs. This in no way adds anything to your car's performance but certainly adds to its appearance.
With the original radio crate discarded, we have to find a means of retaining the 7.2 volt battery pack. CRP have come up with their own velcro straps. A very neat and quick means of holding batteries, positioned through ready made slots in the chassis.
Velcro is also used to assist in holding down the body sides. Aluminium brackets with velcro double sided to them are supplied along with all necessary screws and nuts, and pre drilled holes in the chassis are there to postion these brackets.
We move further forward on the chassis and find slots milled to allow tie wraps to pass through the chassis to help retain the steering servo that is initially servo taped down. Your old steering is discarded because CRP supply the entire adjustable assembly, working through their own moulded nylon servo saver. This servo saver is an Associated lookalike, with track rods made from studding in rose joints each end. The actuating lever from servo to servo saver is supplied in the kit, made up as a per the track rods. A small percentage of bump steere is experienced with this assembly, with limited amounts of toe-out when the suspension is depressed to its extreme. This, however, would have little, if any, effect on the cornering potential of the car.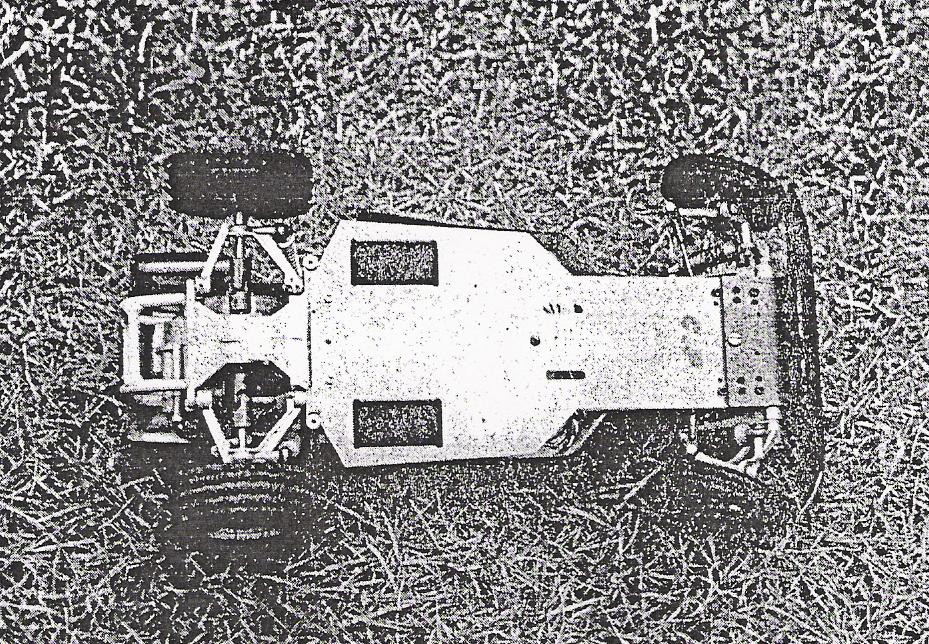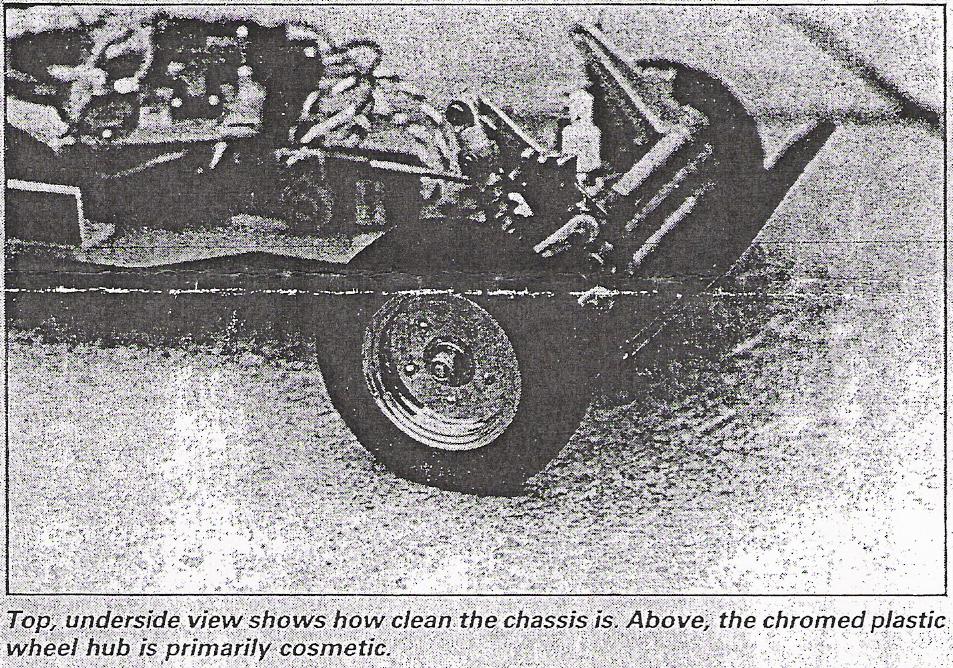 What now does have an effect on cornering is CRP's wider front track assembly. I have always been of the opinion that the Rough Rier's front track was a little on the narrow side and now you can enlarge that by 1/2 inch by replacing the tubular allow cross members with longer ones provided.
The longer members fit into your existing suspension support brackets and you also retaint top and bottom swinging suspension arms and steering arms.
The suspension arms now pivot on CRP's hardened andground pins that fit through the support bracket and into the tubular cross member. These pins have flats milled on their end, to clamp the suspension arms in position.
As with the rear of the car, we replaced the outer half of the front hubs with chrome plated mouldings, to improve appearance and then finished off our build with CRP's Poly-flex front bumper.
Furtheu bolt-on parts are available for the Rough Rider, but at this point we have on this car everything to give the driver a competitive package.
Every part that we have had the good fortune to receive from CRP has proved to be of very good quality and helps to improve any car they are fotted to.
Bear in mind that CRP are continually adding to their range, so watch these pages for further developments.
Ready to race, the new look Rough Rider faces up to the latest from America, the Associated RC10.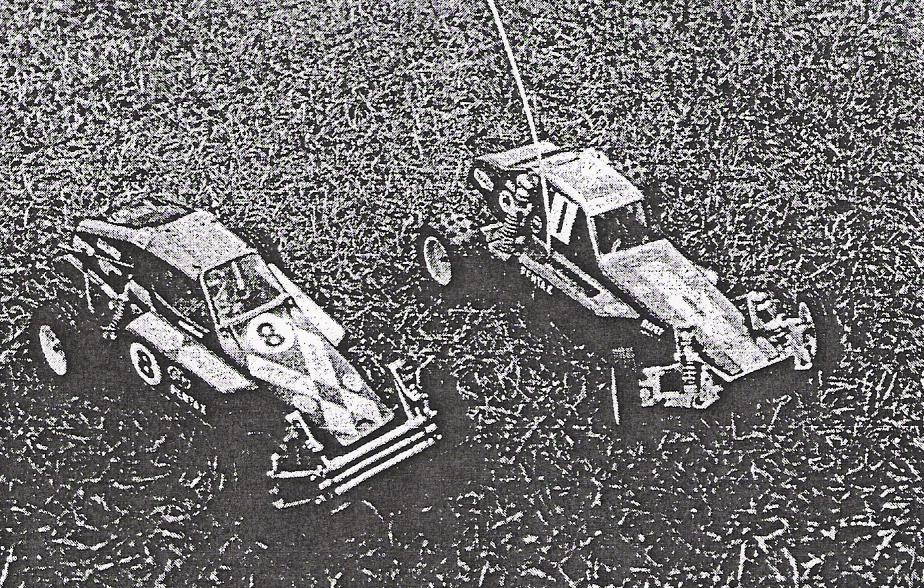 "Quality" -- the difference between fun & frustration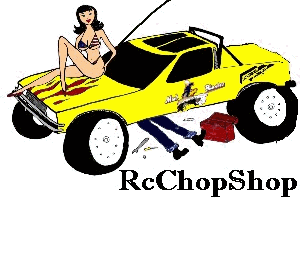 ®
"The cool place for all your 'HOT' parts!" ®
© 2003-2005 RcChopShop.com, Inc.
E-mail
We welcome your comments!
Back to the CRP Ads and Articles page